In recent years, technology has made its way into almost every aspect of our lives, and workplace safety is no exception. One example of this is the emergence of Bluetooth safety glasses, a new type of protective eyewear that integrates wireless technology to enhance worker safety.
But if you've been searching around, you may find most of these Bluetooth glasses are not actually about safety.
In this post, I'll talk about what are Bluetooth safety glasses, where to purchase them and recommend some alternatives. If you really need them, this post would be your ultimate solution for buying Bluetooth safety glasses.
What are Bluetooth safety glasses, exactly?
Bluetooth safety glasses are the combination of Bluetooth audio technology and safety glasses. They are designed to protect the wearer's eyes from hazards such as flying debris, dust, chemicals, or radiation, while providing audio features such as listening to music or making phone calls. They could be used in a variety of environements, including workplaces, construction sites, laboratories, or sports activities.
But let's face it, even Bluetooth glasses are a relatively new thing that have only gained widespread attention in recent years. Compared to headphones, which have been around for decades, Bluetooth audio glasses have a shorter history and as such, there are currently fewer options available for those looking to integrate them into their safety gear collection. Our customers have approached us numerous times, inquiring about the availability of Bluetooth safety glasses. And the truth is, at the moment, we don't have a model that's specifically designed for safety purpose. But luckily, there are some workarounds.
Bluetooth Safety Glasses Solutions
Safety glasses typically have impact-resistant lenses made of polycarbonate or similar materials. The lenses are often covered with special coatings to enhance their resistance to scratches, fogging, and UV radiation. The frames of safety glasses are made of durable materials such as plastic or metal and are designed to fit comfortably and securely on the wearer's face. 
Note that most Bluetooth audio glasses lack these features and do not meet official safety standards guidelines from OSHA such as ANSI Z87.1 or those set by the European Committee for Standardization (CEN). So if your requirements include these specific standards, we recommend wearing open-ear headphones and safety glasses together (for example, bone conduction headphones with glasses). 
But if these requirements are not a must, and just like me, you hate too much burden over your ears, here are some recommendations.
Bluetooth Sports Glasses
Some wrap-around Bluetooth sports glasses may work as safety glasses because they are designed to provide protection from similar hazards. For example, sports glasses designed for activities such as basketball or racquetball may have impact-resistant lenses and frames to protect the wearer's eyes from flying balls or collisions with other players. These same features can also make them suitable for use as safety glasses in certain workplaces, such as factories or construction sites.
Here are some wrap-around Bluetooth Sports Glasses you may use as Bluetooth safety glasses.
VocalSkull Sports - Wrap-Around Bone Conduction Sunglasses
VocalSkull Sports is our latest bone conduction sunglasses specially designed for high intensity sports. It's integrated with the latest Boco bone conduction transducer to offer immersive audio while keeping minimum sound leakage. It has a TR-90 body with polycarbonate lenses which are strong enough to endure sports or working time impact from any direction. It also supports wear detection, native voice control and many other advanced features. Though not exclusively built as safety glasses, it can be a reliable audio eyewear when needed. See detail.
Bose Frames Tempo - Sports Sunglasses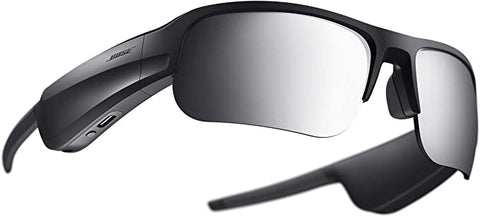 Tempo is one of the second generation models from Bose Frames. While tt comes with a premium price tag that might be prohibitive for some buyers, for those with enough budget to spare, however, the Frames Tempo provides a high-quality audio experience that is hard to match. The bulky temples may be a downside for wearing experience, but the exceptional sound quality and durable build make it a great investment for anyone looking to enjoy their music on the go. See detail.
Avantree SG188 Bluetooth Smart Audio Sunglasses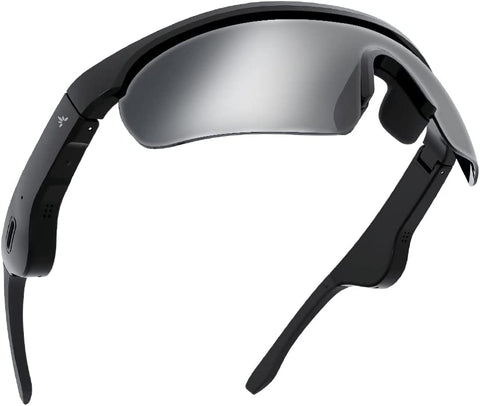 The Avantree SG188 audio sunglasses prioritize functionality over fashion, making it an ideal accessory for sports or safety. The bulky temples may not be the most stylish, but they offer the durability needed to withstand intense workouts and extreme weather conditions. The audio quality is not perfect, but considering the price, it could be a choice for those with an active lifestyle. See detail.
OhO Bluetooth Sunglasses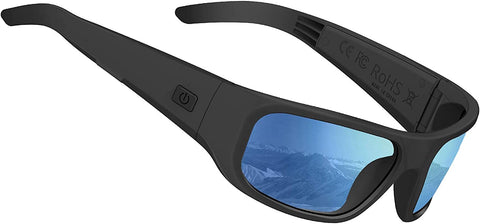 The sports style of these glasses appears to be sleeker than the SG188, with the same price. Notably, this product explicitly meets the US Safety Lens Standard ANSI/ISEA Z87.1-2015 for Impact Resistant Eye and Face Protection Devices, and has 100% UV protection polarized lenses, which have been audited by the FDA. This makes it one of the most qualified Bluetooth safety glasses currently available on the market. While it's possible to replace the lenses with safety standard ones for other Bluetooth audio glasses, the OHO glasses come with them right out of the box. This makes them an excellent option for people looking for top-notch eye protection along with audio capabilities. See detail.
JLab JBuds Wireless Audio Frames
If meeting safety standards is a prerequisite, this audio accessory, which easily attaches to your safety glasses' temples, may be a suitable choice.

JBuds Frames offers a new way to listen to audio. Its universal fit allows it to fit on most sunglasses or glasses. With two hooks, these accessories securely attach to most glasses, making it easy to listen to your favorite tunes with your own personal style. With easy Bluetooth 5.1 connection and dual connect, you can use the JBuds Frames either independently or together. Plus, the privacy-safe smart assistant feature allows you to activate SIRI, Google Assistant or Alexa with the touch of a button. See detail.
Conclusion
Wrap-around style Bluetooth sunglasses can provide some level of protection for your eyes, but they are not designed specifically as safety glasses and may not meet the standards required for certain tasks or work environments.
If you need safety glasses for a specific task or work environment, it is best to use certified safety eyewear that meets the appropriate safety standards.
Although there isn't yet a perfect all-in-one solution for Bluetooth safety glasses, these are the currently available options that can help bridge the gap until such a product arrives. Check out Hoyee Eyes for more Bluetooth glasses and other smart devices.